Hi there! My name is Joanna Davies and I own the vintage rental business The Odd Bin, located in Effingham, IL. I'm also co-owner of Fresh Digs, a retail store in Effingham which specializes in vintage, modern, local and global home goods and gifts. Stop by sometime and check us out.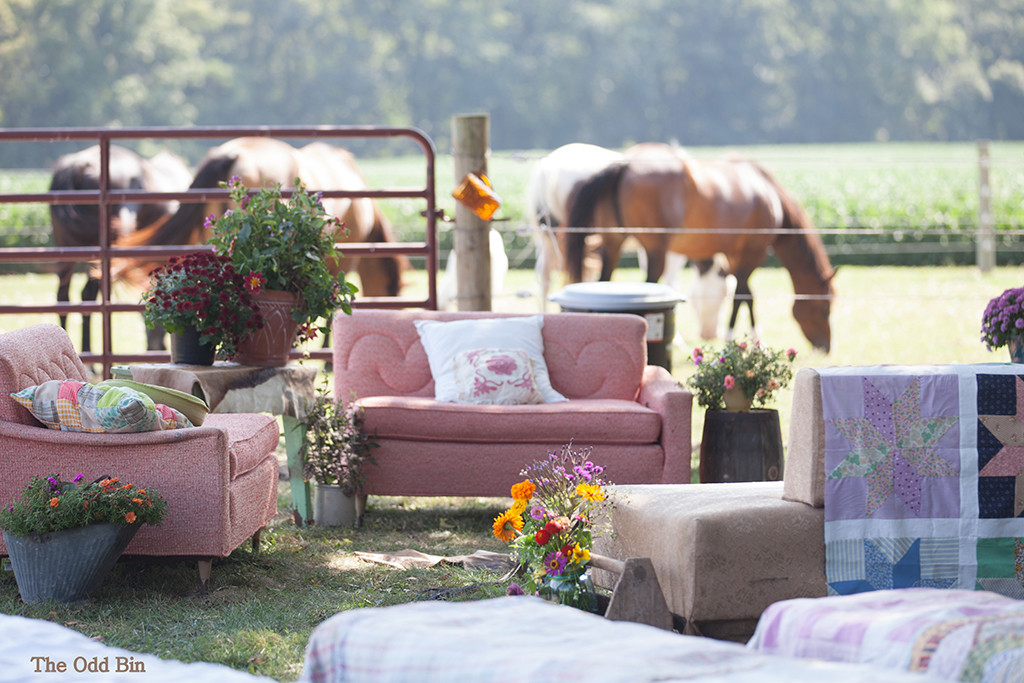 A little bit about how I came to start my rental business. After moving back to the Midwest from seven years living in South Africa I attended a couple of weddings that incorporated vintage elements into them. Being an avid thrifter and auction-goer all my life I was really excited to see old typewriters, milk glass and vintage postcards used in the décor. Having been away for so long I was oblivious to what was happening in the wedding world in America, but very happy to see that it now involved vintage elements. Then that Christmas I ran into an old friend who told me about the business she started in Boone, NC. It's called Miss Match Rentals. She knew I'd love it as we often thrifted together. And she was right. At the time she was renting mismatched vintage dishes and linens. The idea of people using unmatched vintage dinner plates and dessert plates was the coolest idea to me. I immediately went home and counted the number of place settings that I already had hoarded, er, collected. I had 100 place settings. The Odd Bin was born!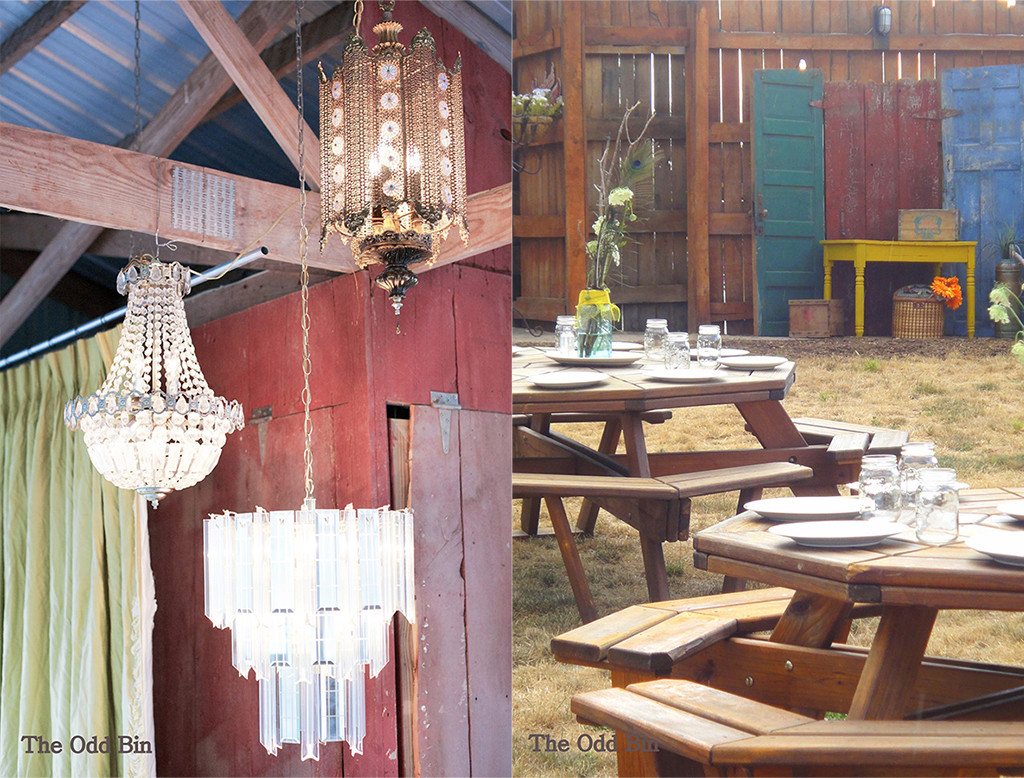 In addition to the dishes (which, by the way, I wash for you), The Odd Bin also rents silverware, Mason jars, vintage couches, chandeliers, centerpiece items (silver and mirrored trays, glass jars, cake stands), typewriters, furniture pieces, workable and hinged doors and a whole lot more. Renting vintage tableware is great because not only is it functional and "green" (nothing to throw away!) but it is also beautiful. So it serves double-duty: table décor and food holder. And there is always at least one person who's very happy to spot Grandma's old dishes. As far as the other items I rent the vintage couches are a hit for people looking to create an outdoor seating area or photo area. The chandeliers are unexpected, especially at an outdoor venue and the furniture pieces are great for displaying family or engagement photos, utilization as a drinks station and a whole lot more. Another popular rental is my message station. The idea for using a functioning typewriter in place of a traditional guestbook and clothes-pinning the messages to a line came from my friend's wedding that I attended in Michigan right after I'd moved back to Illinois. This was a very unconventional guest book idea and a really fun activity for guests to play around with at the reception. Seriously, when was the last time you used a typewriter? As I tell brides, it's a trip. There's no delete key! And it's a lot of fun reading the messages that others have written.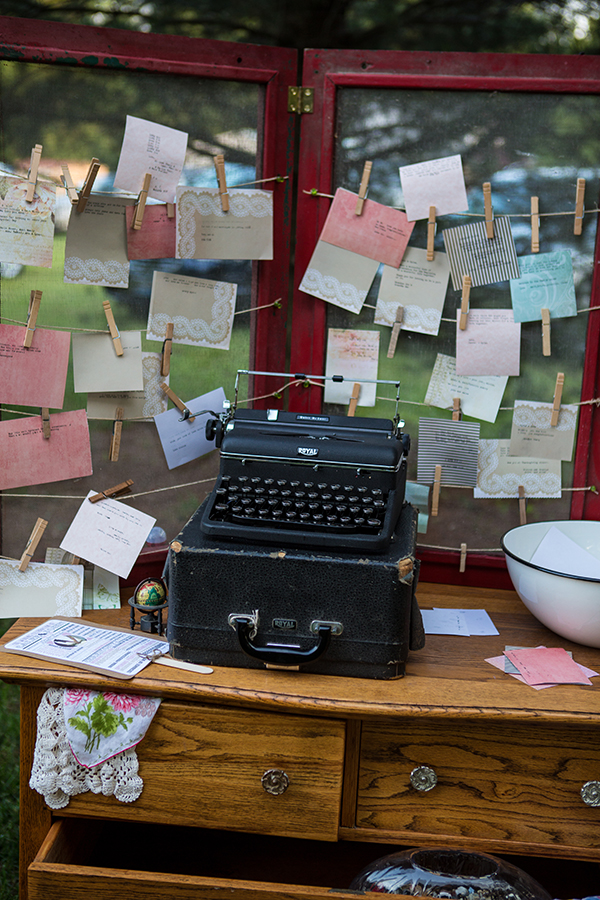 Finally, my last item worth mentioning here are my doors. Yep, doors. I live on a 150 year old farm where my family, past and present, kept everything. So finding a stack of doors involved me and my mom in an old shed wading through raccoon poo and who knows what else to pull out doors from farmhouses gone by. We pressure washed them and then I put my dad and husband to work hinging them together. Later on when brides requested a way to create their "big reveal" at an outside wedding I tasked them with creating workable doors. Two naturally aged white doors, that could open and close, were hinged to a walnut stained frame. I think it turned out quite beautifully.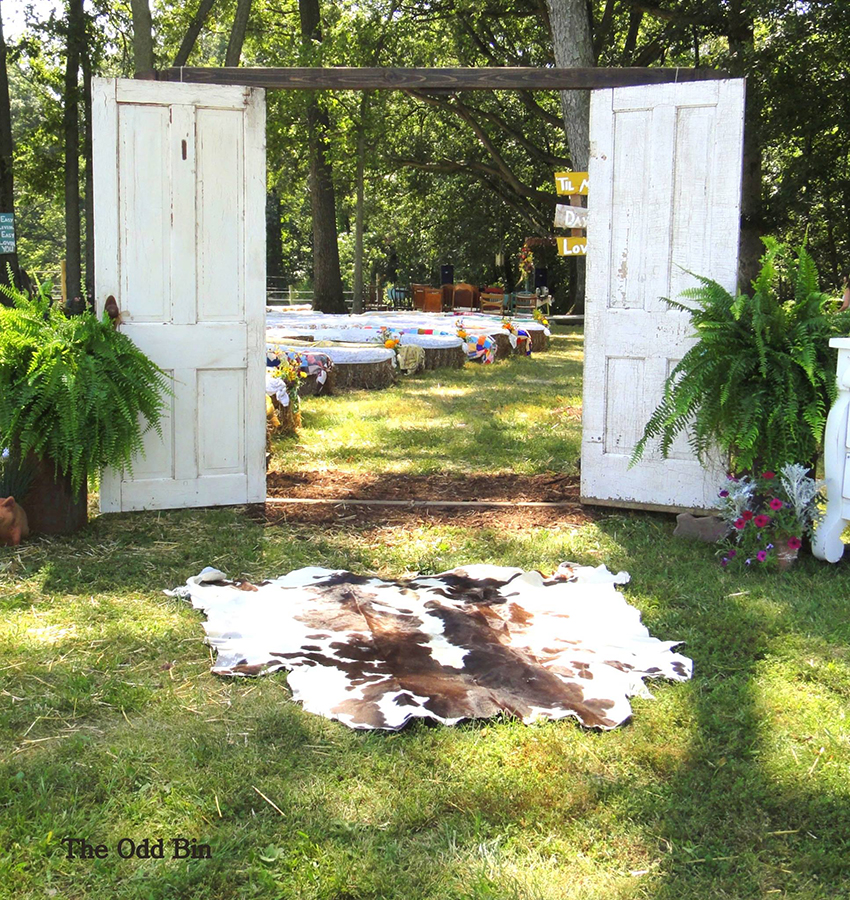 If you're looking for something to give your wedding a unique and historic feel, then check out my website or my Pinterest page. My Pinterest page is probably the best place to see pictures of items available for rent and pictures of them set up at real weddings. Let me say that not everything I have to offer is online, so email me with any questions. If you are interested in renting, I operate in three different ways:
1) Rental only. You pick up from me and take it to your venue and set it up. You bring back to me afterwards.
2) Rental and delivery. I bring to you and you set it all up. I then collect it afterwards.
3) Rental, delivery and setup. I bring the goods to you and do all of the setting up.
Feel free to email me at joanna@theoddbin.com to set up an appointment to sit down with me and talk about your needs. Or we can work totally via email as I've done in the past with out-of-town brides. I'm pretty flexible.
Thank you Steffen for the opportunity to share my business!
Happy planning!
Joanna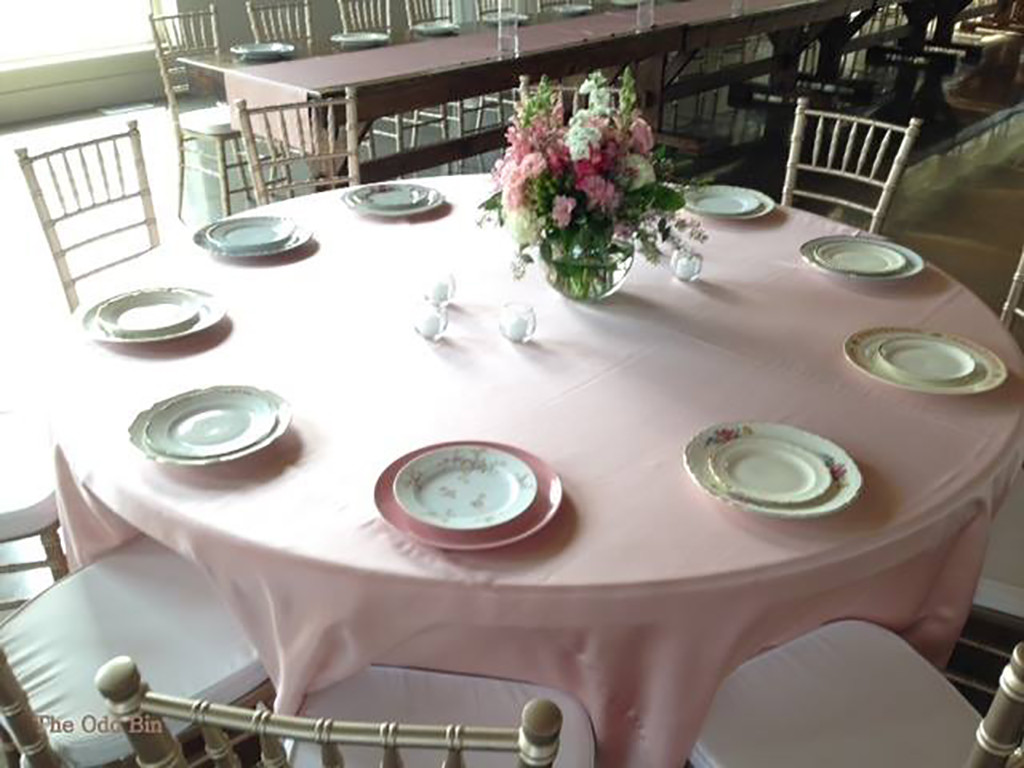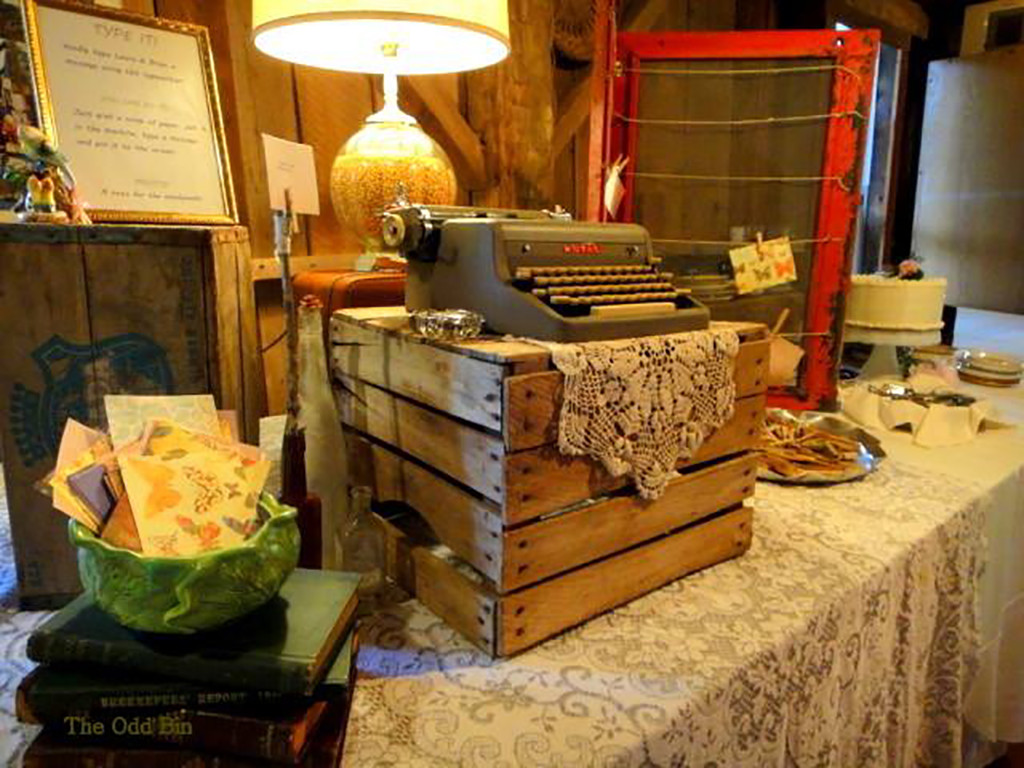 Comments
comments